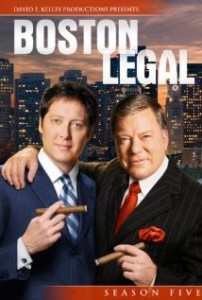 Boston Legal (IMDB link) aired in the USA from 2004 to 2008 as a spin-off of The Practice. Alan Shore (James Spader, main character), Denny Crane (William Shatner) and several others are lawyers for what seems to be one of the biggest firms in the whole world: Crane, Poole & Schmidt (CP&S). They have offices in Boston, Massachusetts (main office), New York, Washington, Chicago, Los Angelos as well as overseas in London, Hong Kong and Tokyo.
Each episode, the many lawyers that make part of this firm (some come and go at the beginning and ends of the seasons) take and plead cases  – mainly concerning Civil Law – going from a woman being in love with an electrical cabinet to murder with intent. They almost always win, whether it's them suing or being sued. And when they do, it is quite often thanks to Alan Shore's incredible closing.
I started watching this series recently because I saw a few seperate episodes on the Belgian Television in '09. I'm not watching it for the general concept – which is pretty classic, there are plenty of series out there following the same pattern. I watch it for the background story of the characters, the way they think about themselves, about others and their relationships with others. And considering the rating of 8.3/10 on IMDB, other people think alike about that!
There are really many different characters in the show including the haughty Denny Crane – who somehow has reason to be haughty, a male who sometimes performs on stages as a woman, a man suffering asperger, a woman who runs a call-girl practice next to being lawyer, and so on. They often make sort-of sexually orientated remarks, but in such a funny way that it feels acceptable and not shocking at all.
Conclusion: After watching the whole series, all I can say is: wow! It was marvelous. If you don't mind spending a lot of time watching lawyer series (you'd be spending about 69 hours on this one), then certainly go for it!