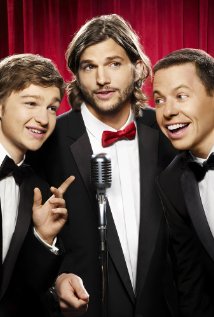 Two and a Half Men (IMDB link) first aired in the USA in  2003. The plot is about 2 adult brothers, Charlie and Alan, and Alan's son Jake. In the Pilot, Alan gets thrown out of the house by his wife. Together with his son, he moves in with Charlie. Charlie however has a very wild life-style. He has trouble adapting to the new situation, leading to funny and at times even hilarious events.
Two and a Half Men is a comedy TV show with an episode length of about 20 minutes. For me, that is ideal. I often take small breaks, and many TV Shows have episodes of 40 minutes which is a pretty long break at once! I can watch an episode of Two and a Half Men whenever I have a few minutes to spare and need to chill, and 20 minutes is the perfect break length!
Conclusion: After having watched the first 7 seasons so far, all I can say is that the jokes never get boring and the limited episode length enables you to watch an episode whenever you like without losing too much time!